With the advent of technology, there are so many IT-related jobs saturated in the online market, and genuine typing jobs are among the most common internet jobs.
How to find genuine typing jobs online ?

They are found just about anywhere if you just type in online typing jobs But when you are looking out for genuine typing jobs online you need to be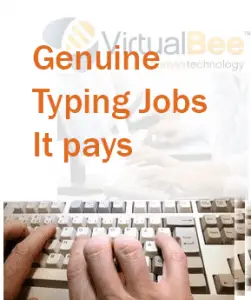 aware that there are many copy-cat sites. So it pays off to do a bit of research before you embark on any job adventure.
Of course, that does not mean all are scams because there are some genuine ones which give you a really good deal. A lot of people and especially the ones who stay at home and cannot commit to a full-time office job like mothers are reaping the benefits of working from home than the other stay-at-home people who do not believe that such jobs exist.
There are hundreds of various types of online typing jobs and some calls for very specific skills in typing with excellent command over grammar and speed as the data they handle is complex. These jobs are difficult to get and one could end up on a waitlist for a long time before it materializes. The other type of online typing job is ad placing, which is mostly typed data so one can even copy/paste and experience and typing speed does not matter much.
Contrary to many beliefs about these kinds of jobs being frauds, if you do find the right mentor, you can make a very decent amount of money. Thus if you do your research properly before you just plunge yourself into it, you will find that it does work.
We fount one company called Smart Crowd, formerly known as Virtual Bee known to provides legitimate data entry work to independent contractors who want to make more money online. Smart Crowd has won a high reputation in the work at home community.

What is the Smart Crowd?
Smart Crowd recruited independent online contracts based on their accuracy and speed. First, you must register as a member. Then you type your typing speed test to determine if you are eligible would be given to evaluate the work. The assessment consists of a three-part test. Each test usually takes about 2-3 minutes.
Do not worry if you score a small percentage during the evaluation process – you can retake the test after 24 hours again. It is important to also target close to 100%, mainly because the competition is too high and there is a long waiting list.
Virtual Bee is one of the legitimate sites but we don't recommend as a full-time income because it wouldn't be a constant income, however its 100% free and it's risk-free so it's worth trying.
To get started, visit the Smart Crowd