Unlike the typical affiliate marketing approach which is, you get paid a commission when someone buys a product (which you referred them to), CPA offers a much easier approach than that.
What is CPA Offers?
CPA is short for Cost Per Acquisition, meaning you get paid when someone fills out a form. And as you can imagine it is much easier to get someone to fill out a form for free than to buy something.
CPA offer also can pay a lot more than a product, the payout per 1 signup can be $80 and sometimes $200 just for filling out a simple form.
The advertisers benefit from this and pay that much because 1 lead (signup) for them means hundreds of dollars if not thousands for the lifetime of this lead.
So this 1 lead you helped bring to them can purchase multiple times over the lifetime course. That's why they pay affiliates like you a very good commission.
There are marketplaces that list great CPA offers that you can join and start making money online as an affiliate very fast.
One network that comes to mind is OfferVault.com and that's the kind of payout you can get: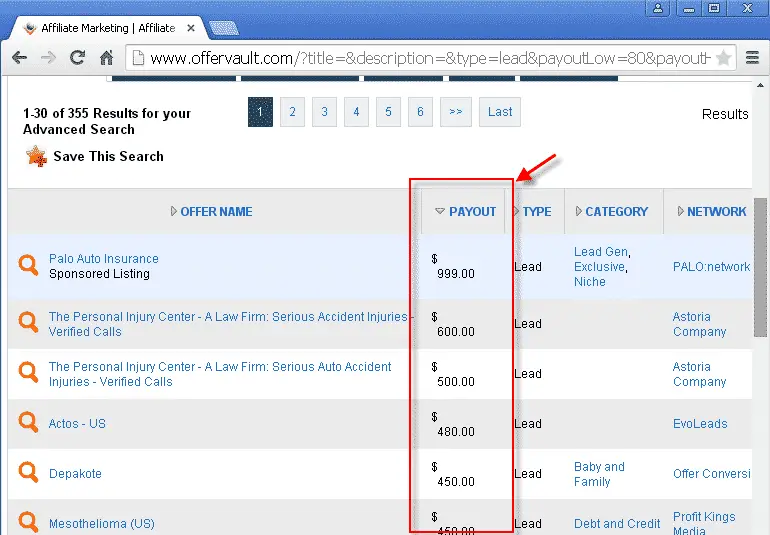 You might think that all CPA offers are gambling and loans and insurance offers that are very hard to even make people fill out a form, but that's not true. With the right marketing and traffic targeting, you can pretty much convert any CPA offer.
And for those that can't convert those high paying offers in these gambling, loans, insurance niches. There are certainly other niches that are very easy to convert.
For example let me show you this CPA offer I found: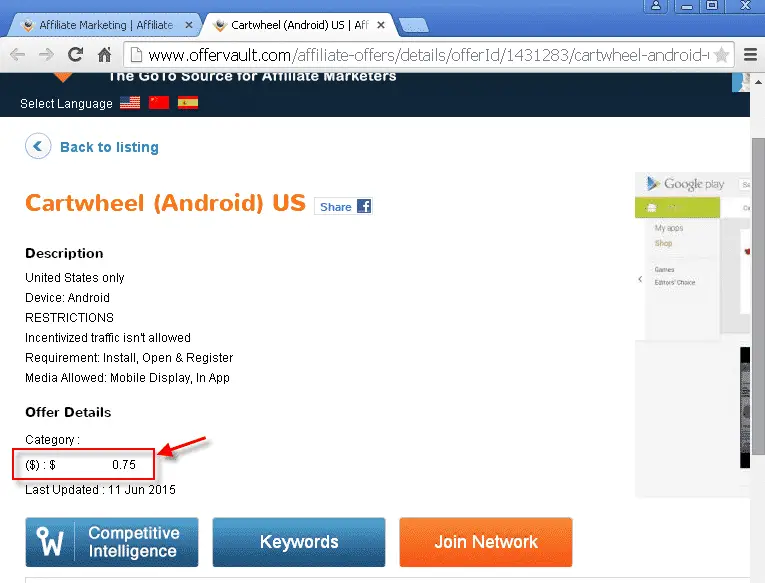 This is a mobile app for Android and iOS, it helps notify users of sales and deals at the "Target" hypermarket. And even though the paying out is low at less than a dollar, it is still a very profitable offer to promote as an affiliate.
Just imagine how many people shop at target every day and how many of them have mobile phones either Android or iPhone.
So if you as an affiliate managed to get 50 people/day to sign up to download this app then you are netting $37.5 a day and $1125 a month for this easy to convert offer.
Where to Get your Traffic
The source of your traffic will massively depend on the niche of the CPA offer you are promoting. You have to choose between SEO and Twitter as your traffic source.
SEO is great for the long term; you simply rank your keyword on page #1 and forget it as it will keep bringing in traffic on a daily basis. Which makes it a great source of traffic for niches like loans, insurance..etc
Twitter, on the other hand, is perfect for niches that related to human problems, like weight and shopping..etc.
There are many software and services that can get you traffic from twitter on a daily basis, just Google it and you will find them.
SEO Strategy to Make Over $1000 a month
It is very common and known that SEO is hard nowadays, so much competition that makes it hard to get started. But that's not totally true.
The competition in SEO lies in the fact that people try to compete for highly searched keywords.
My strategy is to rank for keywords with less than 100 searches a month.
So for example, if I will promote the "Cartwheel" mobile app in the above screenshot (it notifies users of discounts at Target hypermarket). The payout for you as an affiliate is $0.75 per 1 mobile app download.
First, we do keyword research to find out which keywords we can rank for: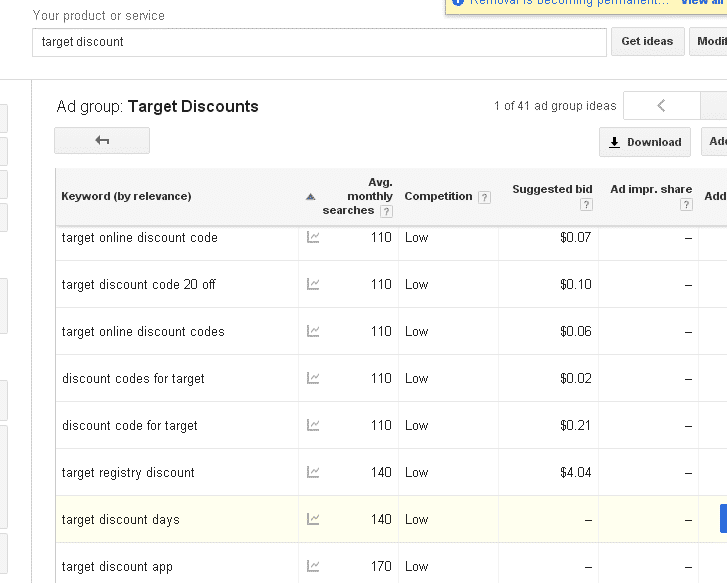 Using Google's keyword research tool I found tons of keywords with low competition that are relevant to the mobile app I am trying to get signups to.
If we picked the above 8 keywords, they will total 1000 traffic a month. Note that those keywords will be insanely easy to rank for giving the fact that not so much people will try to rank for them.
So from those 1000 unique visitors a month we try to convert 25% of them to download the app which means 250 will download our CPA offer giving you: 250 * $0.75 = $187.5 a month on autopilot.
You repeat this process every month for different affiliate CPA offers with different payouts and you will find that your profits will stack up month after month.
PPC for ROI Mindset
Any kind of free traffic requires time and effort to start seeing results. But free traffic is not your only option for traffic.
For people with a business mindset that like to think in term of investment and return of investment, you can use PPC (pay per click) as your traffic source.
PPC works as follows; you tell Google Adword that you will pay for example $4 for 1 click to your website, so if you are an affiliate for $80 CPA offer then $4 to pay for a click is pretty much cheap.
For example, if you got 100 clicks to your page at $4 per click that will amount to $400
And if you convert at 15% that means 15 out of your 100 clicks will sign up to your CPA offer that earns you $80 per signup.
So 15 signups you got multiplied by $80 you earn per signup = $1200 profits!, if you subtracted the $400 you paid for all of the 100 clicks it means you got 300% ROI and $800 net profits!
And the best thing about PPC is that you can start it and get it running in 24 hours.
Well, that's why I think if you are newbie affiliate just getting started, or looking for a way to make money online fast then you should consider CPA affiliate marketing.
It is better than the standard affiliate marketing model where you are paid only if you made sales.
To start your CPA business you still need some basic setup like a website and design..etc, after all, it is still an affiliate marketing model that requires you to have a framework in place.
Affset is an affiliate marketing course for newbies that can help you with everything you need to be ready to promote CPA offers today as it has PDF lessons and 5 software.