Do you want to learn how to make money selling Oriflame beauty products from home?
Oriflame is one of the oldest and more popular direct sales companies out there that offers one of the best home business models to men and women. Direct sales is the process of selling products face-to-face done offline or online, depending on the company. This industry offers one of the best business models for Srilankan men and women to easily earn money selling beauty products from home.
How Do You Get Started to Sell Oriflame?
It takes just a few minutes to sign up as an official Oriflame Independent Sales Representative. Fill out a registration form and choose your tools to build your own business immediately.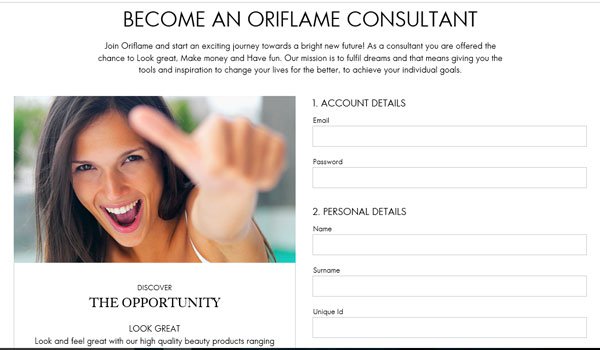 After you have signed up, you will be redirected to the New Representative Center. An Oriflame Leader will also contact you to welcome you, answer your questions, and help you every step of the way as you start up your business
The more you put into your Oriflame business the more you'll get out of it. You can make up to 55% on the products you sell, and if you decide to recruit and lead a team of other Beauty & Fashion Advisors, you will also earn a percentage of their sales on top of your own.
There are two ways you can earn money with Oriflame!
Selling Oriflame Products
If you enjoy selling you can increase your earning by making up to X% profit on the orders you collect from customers. Every three weeks Oriflame provides you with a new catalog full of the latest beauty products –created in Sweden – that makes selling as easy as simply showing the catalog.
Earn even more money by inviting others to join
Build your own team of consultants by inviting others to join Oriflame. You will benefit by not only further increasing your earnings but also developing your beauty, business, and management skills through Oriflame Academy training courses. Your Oriflame beauty consultant will be there to guide you through the process of building your own team. By sharing your beauty expertise with your team you will help them to build their dreams as you achieve your own.
How to

Make Money Selling Oriflame

?
When you are an Oriflame representative, there are three different ways you can make money selling Oriflame.
The first is selling products to your customers through face-to-face sales and earning commission from your sales.
The second is selling online through your personal eStore or website where customers can shop with you online 24/7.
The third way to make money is by building your own Oriflame team.
When selling products face-to-face, simply collect payment from your customer for their order. Then place the order via your New Representative portal online. Oriflame will directly send the products to you. Then you deliver to your customer.
If a customer orders online through your Oriflame eStore, you will receive payment and earnings through direct deposits.
It is completely up to you whether you want to sell online, or want to be a traditional Oriflame representative selling face-to-face, or want to do a combination of the two.
How Much Can You Make Selling Oriflame?
Your earnings will depend on the number of sales you make. The more you sell, the more money you make through commission. You can earn up to 50% on the products that you sell. If you build your own team by recruiting others, you will also earn a certain % of commission of their sales.
Your potential for earning money is unlimited. Oriflame provides you with the tools, expertise, and support you need to start selling Oriflame and earning right away. You will grow your earnings as you grow your sales.
Final Words
If you are outgoing, confident, a good communicator, and are passionate about the products that you are selling, you can make a career out of selling Oriflame. It may be the perfect work at home opportunity for you.